About your
Rescue Squad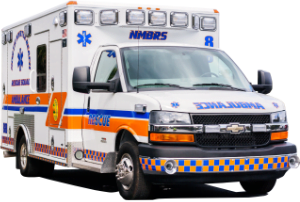 When you call 911, you're probably not thinking about who is going to show up. If you happen to be here in North Myrtle Beach (or anywhere on the north strand), you'd be very fortunate if your Rescue Squad arrives at your door. Here's why:
We live and work here in North Myrtle Beach. "Helping our neighbors" is not just rhetoric.
We are a 501(c)(3) non-profit organization. You're not going to receive a bill from us.
Let's repeat. We do not charge for our services. Never have, never will.
While every one of our EMTs and Paramedics are trained and certified to the highest level, this isn't our main job. We all volunteer our time and expertise to be here for our community.
Your North Myrtle Beach Rescue Squad was formed in 1958. We have been on active duty for 65 years and we are actively making plans to improve for the next 65 years.
We have been the recipient of many state and national awards, including "Best Rescue Squad in the USA."
We are dedicated to education within our field of practice, the community, and our visitors. We maintain a monthly continuing education program for approximately 90 EMTs, paramedics and firefighters. Our CPR instructors teach all over the Grand Strand to moms and dads, to Nurses and Doctors, to EMTs and paramedics, teachers and baby sitters, churches and businesses.
Join Us
So you're here to find out more about us. Maybe you want to check us out before making a donation (Thank you in advance!). In addition to financial donations (which are always needed, welcome and 100% deductible), we also hope that you will consider a donation of your time. Don't worry – you don't have to be a medical professional to help us! With an organization of volunteers, we always need more help and there are always things we wish we could do "if we just had the time." Get in touch and you'll see what we mean.
Also… mark your calendar! Our Fish Fry fundraiser, which has been an annual tradition for more than 30 years, is always in October – this year it will be October 21, 2023. Our community looks forward to good and plentiful food, and great fellowship. If you have never attended, you DO NOT want to miss it!