North Myrtle Beach Rescue is one of the oldest rescue squads in the state.
The squad was started in May 1958. Merlin Bellamy (1926-2012) and two other local businessmen donated $200.00 and bought a used 1950 Packard hearse from a local funeral home. We were incorporated as Crescent Beach Rescue Squad (this was before there was a city of North Myrtle Beach).
They equipped the hearse with an oxygen bottle and made padded splints. The local pharmacist gave them lessons in first aid. This was the extent of our equipment and medical knowledge.
In the 60+ years since, we have always been there for our community. When Crescent Beach, Windy Hill, Cherry Grove and Ocean Drive merged into the City of North Myrtle Beach, the name was changed to North Myrtle Beach Rescue Squad. And what a difference 60 years can make!
We now cover an area that extends form the North Carolina state line south to the northern edge of Myrtle Beach. The Shore Drive area is in our coverage area. From the Atlantic Ocean on the east, we cross the Intercoastal Waterway to Hwy 905. Our coverage areas include North Myrtle Beach, Atlantic Beach, Cherry Grove Beach, Little River, Longs, Wampee, Brooksville and the Poplar communities.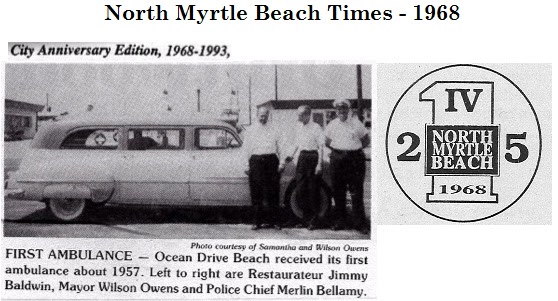 Donate via Paypal now
All donations to NMBRS are fully tax-deductible. We are designated as an IRS 501(c)(3) non-profit organization.